Electric Rice Cooker with Stainless Steel Inner Pot For Soups, Stews, Grains, Cereals,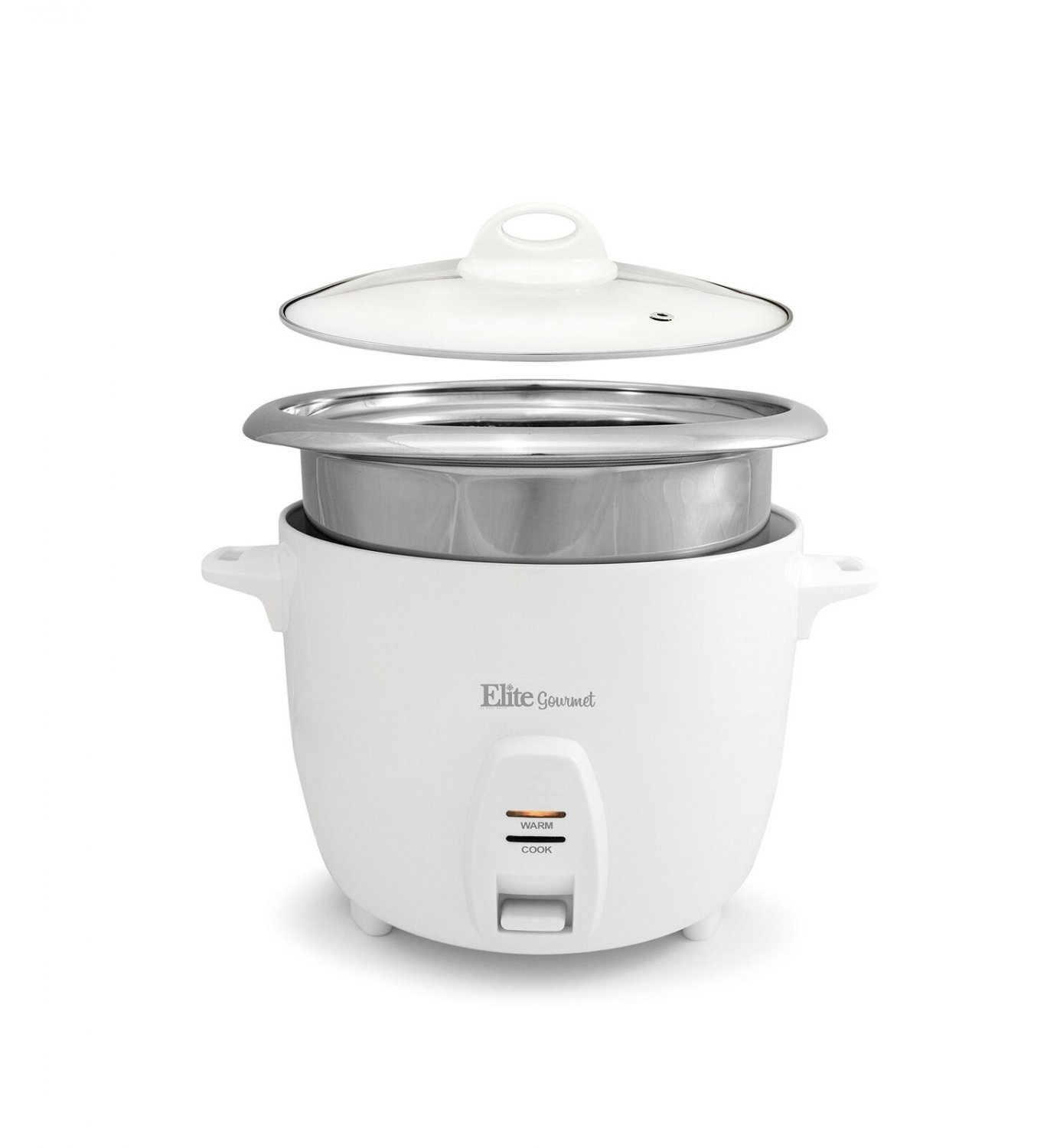 COOK MOUTH-WATERING & FLUFFY RICE EVERY SINGLE TIME without wasting your time over the pot! The Elite Cuisine ERC-2010 pro rice cooker is here to help you cook up to 10 cups (5-cups uncooked) of your favorite jasmine, basmati or brown rice effortlessly! No more waiting for the water to boil, no more watching and guessing if the rice is cooked! Our innovative rice cooker will make your life easier and cooking for your family 100% hassle-free!
WANT PERFECTLY COOKED RICE? JUST SET IT & FORGET IT! Sick and tired of undercooked or overcooked rice? The Elite Cuisine professional rice cooker will evenly cook your rice and then automatically switch to Keep Warm function, which will make sure that your delicious rice is fresh and warm for hours before serving! Take all the guesswork out of cooking your sushi or black rice and enjoy your favorite Indian or Chinese recipes effortlessly!
PREMIUM STAINLESS STEEL POT WILL MAKE COOKING & CLEANING A BREEZE! Unlike flimsy aluminum pots, our rice cooker features a surgical-grade 304 stainless steel cooking pot, which is more durable and practical! Save your precious time and effort, since our stainless steel inner pot is super-easy to clean and can endure any abuse without skipping a beat! And the best part? You can remove it and serve your yummy rice straight from the cooker!
THE ALL-INCLUSIVE HOUSEWARMING GIFT IDEA for a hassle-free cooking experience! The cool-touch side handles will prevent accidents while the tempered-glass lid will allow you to check on your rice anytime! Plus, our rice cooker comes with 2 BONUS accessories: a handy measuring cup so you can stop guessing the right amount of rice and a convenient serving spatula! Spoil your rice-loving friends or family with the Elite Cuisine all-in-one rice cooker!
Here's How You Can Cook Fluffy & Delicious Rice Like A Professional Chef Effortlessly! Do you like rice but cooking it seems like a boring and time- consuming process? Do you want to make sure that your basmati rice is evenly cooked and always ready to serve? Now you don't have to waste your time standing over a boiling pot anymore thanks to the most innovative and time- saving rice cooker! Presenting The Elite Cuisine ERC-2010 Ultimate Pro Rice Cooker! You don't have to be a master chef in order to impress your loved ones with the fluffiest, most delicious and perfectly cooked rice anymore! This time-saving and easy-to-use rice cooker is going to become your little secret! Why Choose The Elite Cuisine Rice Cooker? • Save Time By Cooking Up To 10 Cups Of Rice – cooking large quantities of rice can be tricky but you don't have to worry anymore! Our practical rice cooker can cook up to 10 cups (5 cups uncooked) of rice, enough for the whole family! • Stainless Steel Inner Pot Will Make Your Life Easier – the removable surgical-grade 304 stainless steel pot will make sure that your rice is evenly cooked and cleaning it is as simple as 1, 2, 3! • Keep Your Rice Warm & Fresh For Hours – the handy "Keep Warm" function will allow you to prepare your jasmine or brown rice in advance and serve it once the rest of the meal is ready! • Perfect For All Types Of Rice – whether you like perfectly cooked jasmine rice, brown rice, black rice, basmati rice or sushi rice, the ERC-2010 rice cooker will get the job done! • And Not Just For Rice – you can use our premium rice cooker to steam vegetables, meat, beans or quinoa and cook delicious meals effortlessly! Don't Hesitate! Click "Add TO Cart Now & Enjoy Your Favorite Rice Dishes Like Never Before!