Food Grinder Attachment for KitchenAid Stand Mixer + Sausage Stuffer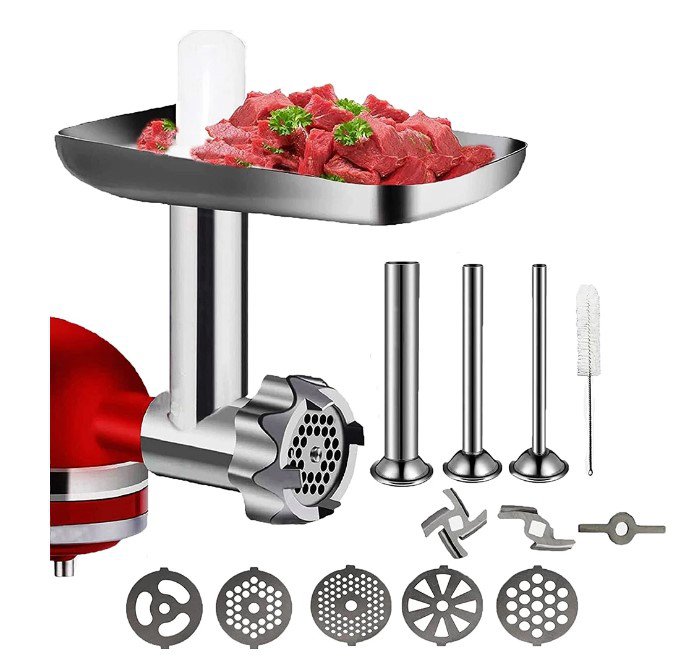 Food Grinder Attachment for KitchenAid Stand Mixer
High compatibility: This meat grinder accessory is suitable for all KitchenAid vertical mixers.
New design and health: The entire structure is made of stainless steel, which has higher hardness and heat resistance, and is more durable. The stainless steel food tray has been upgraded to be larger, larger in size, stronger and more durable
The most perfect configuration: equipped with 5 different grinders and 2 different grinding blades, you can easily grind meat and make different sizes of sausages, fruits, vegetables, hard cheeses and breadcrumbs. Upgrade the feed rod to blow molding process, detachable design, product attention to detail optimization
Convenient & Creative: Pre-chill grinder to maintain a cold grinding temperature, for a clean grind with meat. Simply attach the Food Grinder Attachment to the power hub of any for KitchenAid Stand Mixer. Then let the mixer do all the work.
Easy to clean and maintain: The meat grinder cannot be cleaned in the dishwasher. All parts are detachable. Equipped with cleaning brushes for more detailed cleaning. It can be cleaned quickly with soap, warm water (below 122°F) and the supplied cleaning brush.

Material:Stainless steel
colour:silver

Package Contents:
1 * Pusher
1 * Tray
1 * Push stick
5 * Grinding discs
2 * Grinding blades
1 * bracket
3 * Sausage Stuffer Tubes
1 * brush

Only the above package content, other products are not included.
Shipped from China canm take up to 50 business days
.